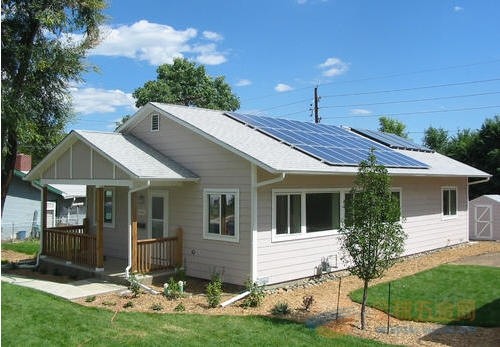 On August 13th, under the scorching heat, the Wenzhou Urban-rural Construction Vocational Secondary Specialized School was unveiled to people's eyes with a novel image, and the building with photoelectricity attracted everyone's attention. At 9:30 a.m., Wenzhou Photovoltaics added "New Army" - the roof photovoltaic power station of Wenzhou Urban-Rural Construction Vocational Secondary Specialized School was connected to the grid for power generation.
Wenzhou Urban and Rural Construction Vocational Secondary Specialized School is located at No. 79, Zhuangzhuang Road, Shangtuomen, Lucheng District, Wenzhou City, with a total construction area of ​​13,760 square meters, including a photovoltaic roof area of ​​approximately 1800 square meters, an installed capacity of 142.6 kilowatts, and a voltage rating of 380 volts. , For photovoltaic building application demonstration projects, the project estimated a total investment of about 4.1554 million yuan, the average annual electricity consumption of about 133.36 million kwh.
The power supply of Zhejiang Power Grid is mainly based on thermal power generation. Due to the large power gap, a single power supply structure has been unable to meet local electricity demand. Therefore, it is imperative to actively develop and use solar energy to clean renewable energy in Wenzhou.
Compared with traditional thermal power generation, photovoltaic power generation is a green, clean, non-polluting energy project, and distributed photovoltaic power generation will be the future trend. Compared with thermal power generation, the rooftop photovoltaic project of the urban and rural construction vocational secondary schools in Wenzhou City can save 44,542 kilograms of standard coal per year after being connected to the grid. The amount of electricity generated by the system is mainly used for electricity loads such as school teaching and office lighting and air conditioning.
This year, Wenzhou City launched the "Distributed" photovoltaic power generation application promotion work, and is applying for a national scale demonstration application area for distributed photovoltaic power generation. Based on the tenet of serving the society and the service environment, Wenzhou Power Supply Company adopts the principle of "welcome, support, and service" for new energy grid-connected services, providing technical support for the entire project from design to acceptance, and providing the owner with access system solutions for free. , grid detection and debugging. Arrange customer managers to guide PV companies to implement grid-connected work, provide technical support proactively, open "green channels", and do a full range of services.
As of August 13 of this year, Wenzhou Power Supply Company has accepted 4 applications for grid-connected photovoltaic power generation projects, of which 2 have been connected to the grid. It is expected that 2 projects will be put into operation by the end of 2013.
"Light Steel Frame House ,Light Gauge Steel Homes,Steel House,Residential House"
Dalian Quacent New Building Materials Co.,Ltd. , http://www.quacenthomes.com